Sustainable Transportation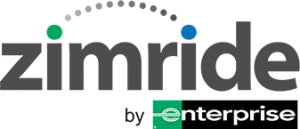 Carpooling is a great way to save money and help the environment while meeting other UMBC students!  UMBC offers a free service called Zimride that helps you find other students and staff members who are commuting from your area.  This service is exclusively for members of the UMBC community, and you can find out more at Zimride's UMBC webpage.
Students who wish to carpool together can park in Lot 4 at the designated "Carpool" parking spots prior to 10:30am.  You do not have to utilize Zimride to park in the carpool spaces; however,  all students who are carpooling together must have a valid Carpool Permit.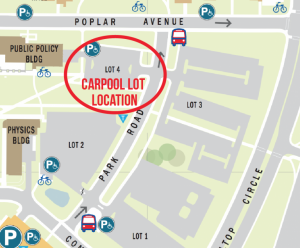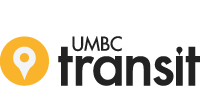 UMBC Transit offers free shuttle service to UMBC students, faculty, and staff.  There are also bike racks on all UMBC shuttles, so you can easily transport your bike with you!  To learn more about UMBC transit and to see shuttle routes, visit the UMBC Transit website.
Telework
Telework typically allows employees to work at a location other than a traditional office setting, such as at home or a satellite office.  For example, an employee may work from home/remote location one (1) day in the workweek and the remaining 4 days in the office.  Telework arrangements require a work plan with tasks and deliverables clearly outlined.  Once the arrangement has been outlined, the appropriate Telework Agreement Form must be reviewed and approved by the Human Resources Department.  Visit the UMBC HR website for additional information.
Visit MTA, the Maryland Transportation Authority to find how to travel to and from campus, with tips including:
Save: Save $25 on your monthly fare with the MTA college pass, available through Off Campus Student Services
Bus: ​CityLink Yellow (YW) & Purple (PR), ​LocalLink 37, 76 & 77 connect UMBC with surrounding area and Baltimore City.
Train: Many trains serve the area, including MARC, a commuter train connecting the greater Baltimore and Washington, D.C. Areas with student-friendly fares.
Light Rail & Metro: Connecting Baltimore County & City, the metro travels east and west while the light rail north to south.
MTA EMPLOYEE STICKERS
The New MTA stickers have arrived.  Stickers are available to Regular Full-Time Staff/Faculty ONLY and entitle you to free services on the MTA buses, light rail and subway. Adjuncts, CI and CII employees are not eligible. This sticker also applies to the following commuter routes:
210: Kent Island/Annapolis-Baltimore
215: Baltimore-Annapolis
310: Columbia-Baltimore/Johns Hopkins
320: Baltimore-Jessup/Columbia
410: Churchville/Bel Air-Baltimore/State Center
411: Hickory/Bel Air-Baltimore/Johns Hopkins
420: Havre de Grace-Baltimore/Johns Hopkins
Permits are available at the Parking Services Office, Monday to Friday from 8 AM to 4 PM. Please bring your Campus ID when picking up so that we can verify your eligibility. If you have issues boarding or questions from drivers regarding the service, please email us at parking@umbc.edu.

Retrieverfleet is a free, short-term bike sharing program for UMBC students, faculty, and staff.  You can rent a bike with your UMBC I.D. at the R.A.C. and use it to get around campus and to travel to nearby areas.  To learn more, see the Retrieverfleet Flier.
Zipcar is a car sharing program that allows you to leave your car at home!  You can reserve a car for as little as an hour or as long as a week, and you pick up your vehicle on-campus.  Visit the UMBC zipcar website to learn more and to sign up.
Charging Stations for Electric Cars
UMBC offers charging stations for electric cars on-campus.  Two vehicle charging stations are available in the Stadium Parking Lot, and these stations are free to all UMBC community members and visitors.