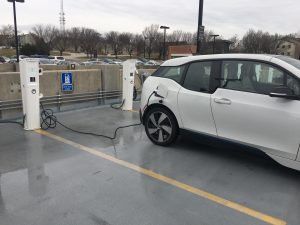 UMBC is pleased to offer 19 charging stations around campus for electric cars on-campus.  We have recently installed 10 new charging stations in the Walker Avenue Garage and 7 in Lot 9. We also have two vehicle charging stations in the Stadium Parking Lot.
These stations are FREE to all UMBC community members. The only requirements are you have an electric vehicle and you have a permit (Daily, Annual or Hourly). Please limit your charging time to four hours. All stations are up and running.
Questions? Contact Parking Services at 410-455-2551 or via e-mail at parking@umbc.edu.