Welcome to Parking Services
Permits for incoming students are now available to order online. 
Winter Session Crossover Parking: December 21, 2017 through January 26, 2018.
Students:  In addition to your assigned permit zone, student permits are valid in zones 'A', 'B', and 'C'.
Faculty/Staff:  In addition to your assigned permit zone, faculty/staff permits are valid in zones 'A' & 'C'.
Freshman Resident Parking Restriction
Effective December 13, 2017, the parking restriction for freshmen residents will be lifted for the remainder of the fall semester.  Vehicles displaying a Zone 'F' permit will be permitted to park in Zone 'C' designated areas and Stadium Lot.  The freshmen parking restriction will be reinstated on the first day of class for the spring semester, Monday, January 29, 2018.
**************************************************************************
The Office of Parking Services is located in the Facilities Management Building, Room 100.  The building is off Poplar Ave next to the Warehouse Building.  This office is responsible for issuing permits, managing parking and enforcing campus parking rules and regulations.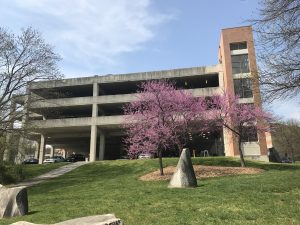 UMBC requires that all vehicles parked on campus in non 'Pay to Park' spaces display a valid UMBC parking permit Monday through Thursday from 7:00am until 7:00pm and Friday from 7:00am until 3:30pm.  Parking enforcement is year round.
Visitor parking is available at 'Pay to Park' spaces.  Visitors pay at the pay station and must properly display the receipt on the front dash of the vehicle.  Pay Stations for visitor 'Pay to Park' spaces are ADA compliant and visitors with a disabled plate/placard will need to pay when parking in these areas. Visitor parking spaces are located at Administration Drive Garage upper level, Commons Garage first level, Walker Avenue Garage upper level, Lot 9 and Lot 7 on Walker Avenue. Visitor parking is $2.00 per hour and payable by MasterCard, Visa or exact currency, no change or refunds provided.  Visitor parking is enforced Monday-Friday from 7:00 am until 7:00 pm.