Welcome to Parking Services
2017-2018 Student Parking Permits 
Are Now Available.
To obtain student permit by mail click here.  There is no additional charge for the student permit.  UMBC is not responsible for permit lost in the mail.  Your vehicle(s) must be registered with UMBC to order a permit.
To obtain student permit in person:  Do not order the permit online.  Student permits are distributed at Parking Services.  Students must show their red and white UMBC ID or driver's license when picking up a permit.  Your vehicle(s) must be registered with UMBC to obtain a permit.  To register your vehicle(s) click here.
Note: Students must be registered for classes to be eligible for a student permit.
The Office of Parking Services is located in the Facilities Management Building, Room 100.  The building is off Poplar Ave next to the Warehouse Building.  This office is responsible for issuing permits, managing parking and enforcing campus parking rules and regulations.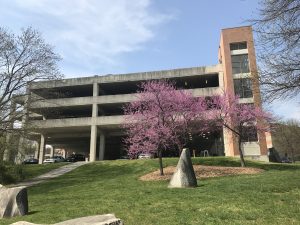 UMBC requires that all vehicles parked on campus in non 'Pay to Park' spaces display a valid UMBC parking permit Monday through Thursday from 7:00am until 7:00pm and Friday from 7:00am until 3:30pm.  Parking enforcement is year round.
Visitor parking is available at 'Pay to Park' spaces.  Visitors pay at the pay station and must properly display the receipt on the front dash of the vehicle.  Pay Stations for visitor 'Pay to Park' spaces are ADA compliant and visitors with a disabled plate/placard will need to pay when parking in these areas. Visitor parking spaces are located at Administration Drive Garage upper level, Commons Garage first level, Walker Avenue Garage upper level, Lot 9 and Lot 7 on Walker Avenue. Visitor parking is $2.00 per hour and payable by MasterCard, Visa or exact currency, no change or refunds provided.  Visitor parking is enforced Monday-Friday from 7:00 am until 7:00 pm.